Due to Covid-19 the only tours operating at the moment are the following: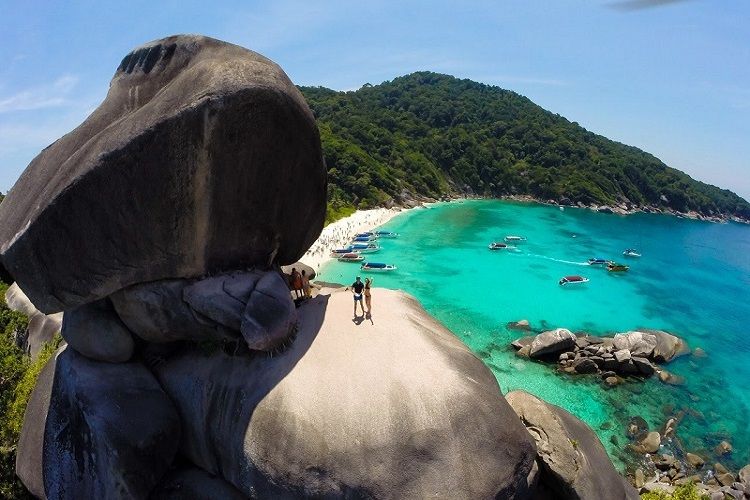 Welcome to the leading tour agency for Phuket. Phuket Tours Direct offers tours only with the most professional, reliable and experienced tour operators. And that provides you with the best experience possible for your vacation in Phantastic Phuket.

On top of that, we guarantee the lowest tour rates! Since we book so many tours, we get excellent deals from the best operators. That means we can offer you the best prices in the business.

Phuket Tours Direct is one of the few tour agencies in Phuket listed on TripAdvisor. We've scored excellent or very good in 80% of all reviews. And for the past three years, we've been awarded the TripAdvisor Certificate of Excellence.

Please take two minutes to watch our "Phantastic Phuket" video above. But just in case you don't...here's what we recommend:

1. Choose your category of tours
2. Select a tour
3. Book the tour

It's that easy.

We look forward to helping make this your best-possible vacation in Phuket. Please feel free to call our Customer Service number for help at +66 (0)81-936-4348.
1. Phi Phi Islands + Khai Island by Speedboat
This tour visits the Phi Phi's and Khai Island. Fantastic scenes at Maya Bay and other stops plus feed the fish at Khai Island.

1600 ฿




Tour ▶
2. Phi Phi Islands + Bamboo Island by Speedboat
You'll see the Phi Phi's plus Bamboo Island and Rang Yai Island.

1800 ฿




Tour ▶
3. Phi Phi Islands by Cruise Boat
This is a more comfortable ride to the Phi Phi's for sightseeing. You have an additional choice of a VIP cruise.

1300 ฿




Tour ▶
4. Similan Islands
Experience the Thai treasure of the Similan Marine National Park. Stunning beauty and world-class snorkeling!

2400 ฿




Tour ▶
5. James Bond Island by Longtail Boat with Canoe
An amazing tour around Phang Nga Bay on a traditional longtail boat with sunroof and canoeing. What fun!

1400 ฿




Tour ▶
6. James Bond Island by Speedboat with Canoe
A great way to take the James Bond tour along with all the must-see sites in Phang Nga Bay.

1600 ฿




Tour ▶
7. Phi Phi 6 Islands
This is a speedboat tour that combines the magnificent Phi Phi's with several other exotic islands.

2550 ฿




Tour ▶
8. FantaSea Show
This is a spectacular Las Vegas-style Thai cultural show. Stunning sets and costumes. Combine dinner and front-row seats.

1800 ฿




Tour ▶
9. James Bond Island by Cruise Boat with Canoe
Take the comfortable cruise boat for sightseeing around Phang Nga Bay.

1500 ฿




Tour ▶
10. ATV + Elephant Trekking + White Water Rafting
Raft a jungle river, ride an elephant and motor the jungle in an ATV at the Phang Nga Rafting Camp.

1700 ฿




Tour ▶
Phi Phi Islands
Speedboat tours that combine the fantastic Phi Phi's with several other islands.

1300 ฿




Tours ▶
James Bond Island
Tours to James Bond and several other islands on different types of boats, and a romantic cruise on the June Bahtra junk boat.

1400 ฿




Tours ▶
Coral Island
A speedboat tour to Coral Island. Idyllic paradise, tropical fish and loads of fun! Scuba diving, snorkeling, parasailing, banana boats...

950 ฿




Tours ▶
Khai Islands
Explore all three tiny Khai Islands and feed the fish.

1100 ฿




Tours ▶
Phang Nga Bay
Unforgettable junk boat sunset dinner cruise and slide into Hongs (sea caves) by starlight.

3600 ฿




Tours ▶
Raya Yai Island
A fun speedboat tour to the island with great beaches, crystal clear water and outstanding snorkeling.

1000 ฿




Tours ▶
Similan Islands
A Thai national treasure. Amazing scenery and world-class snorkeling.

2400 ฿




Tours ▶
ATV
You have a choice of different combinations of ATV tours as you motor through the jungle.

1200 ฿




Tours ▶
Elephant Bathing
Experience several elephant activities such as swimming, mud bathing, showering, scrubbing and feeding

1450 ฿




Tours ▶
Elephant Jungle Sanctuary
A half-day package to the Elephant Jungle Sanctuary interacting with friendly, happy elephants in a safe and sustainable environment.

2400 ฿




Tours ▶
Elephant Trekking
Ride on the back of an elephant through the rainforest and combine it with an ATV ride.

800 ฿




Tours ▶
Hanuman World
An exciting experience, zip-lining from tree to tree through 80,000 square meters of lush Phuket jungle.

1200 ฿




Tours ▶
Jungle Safari
Hike, Elephant Trek and raft through the rainforest of the Khao Lak and Khao Sok national parks.

1250 ฿




Tours ▶
Sport Fishing
Fish the warm waters of the Andaman Sea for some big game at Raya Yai Island.

1400 ฿




Tours ▶
White Water Rafting
You'll have a number of options to ride the white water and combine the experience with ATV and elephant trekking.

1400 ฿




Tours ▶
FantaSea Show
An amazing Las Vegas-style cultural show. Combine it with a great dinner and front row seats.

1800 ฿




Tours ▶
Siam Niramit Phuket
A world-class cultural show. Stunning and lavish.

1400 ฿




Tours ▶
Simon Cabaret
Southeast Asia's premier Ladyboy show. Extravagant and humorous. You may not believe your eyes!

800 ฿




Tours ▶
Thai Cooking Class
You'll learn the tricks of the best Thai chefs from choosing the best ingredients to cooking famous Thai dishes.

2600 ฿




Tours ▶
Phuket City Tour
You'll enjoy and appreciate the best of Phuket; the Big Buddha statue, Wat Chalong, Phrom Thep Cape, Phuket Town, beaches and more.

4500 ฿




Tours ▶
Ferry Transfer to Phi Phi Islands and Krabi
Travel from Phuket to Phi Phi Islands and back, or further to Krabi, on Phi Phi Cruiser, the best ferry boats in Phuket.

700 ฿




Tours ▶
Book Your Phuket Tour Online!